HOW TO INSTALL RUBBER FLOORING
INSTALL TILES OR ROLLED RUBBER
AMERICAN ATHLETICS CO.  provides the best solution for your weight room needs, producing the best results with great value.
GET YOUR QUOTE NOW
WEIGHT ROOM DESIGN
Rubber Weight Room Flooring
At AMERICAN ATHLETICS CO., our team of flooring experts will help you design the perfect floor and choose the best application for your rubber weight room flooring or fitness floor. Whether you are a high school, university or commercial facility, we have solutions to fit each application.
Flooring is an important part of your weight room design and it requires careful consideration to reach the proper performance and safety that your athletes deserve. Our partners at Tribelocus share industry trends with us to keep our solutions in line with what the market expects and our clients deserve.
We urge coaches and athletic directors to learn more about the wide ranging performance based flooring solutions for today's weight room. Our manufacturing partners have invested heavily in the development of science based sports performance flooring solutions that deliver optimum results that increase the safety, performance and life of both the athlete and equipment. This empowers AMERICAN ATHLETICS CO. to offer our clients the best in sports performance flooring with stacked flooring solutions. Using stacked flooring solutions provides the science based outcomes noted above, with tested and measurable results with KPI's such as Force Reduction and Energy Restitution.
---
Recycled Rolled Rubber Flooring
Our engineered performance-based sports flooring offers a wide selection to ensure we prescribe the perfect combination of durability and comfort to protect your athletes. We take things like Force Reduction and Energy Restitution serious so you don't have to, so we refuse to simply offer a commodity as others do.
Advantages
Budget Friendly
Extremely Durable
Low Maintenance
Vulcanized Rubber Flooring
Our Battle Grind Flooring is USA made from recycled rubber and put through a high quality vulcanization process to ensure extreme durability and lasting quality. The Battle Grind Series is available in several colors with a 20% color addition to the black base flooring.
Advantages
Competitively Priced
Long Life - Low Wear
Low Maintenance
Easy Installation
---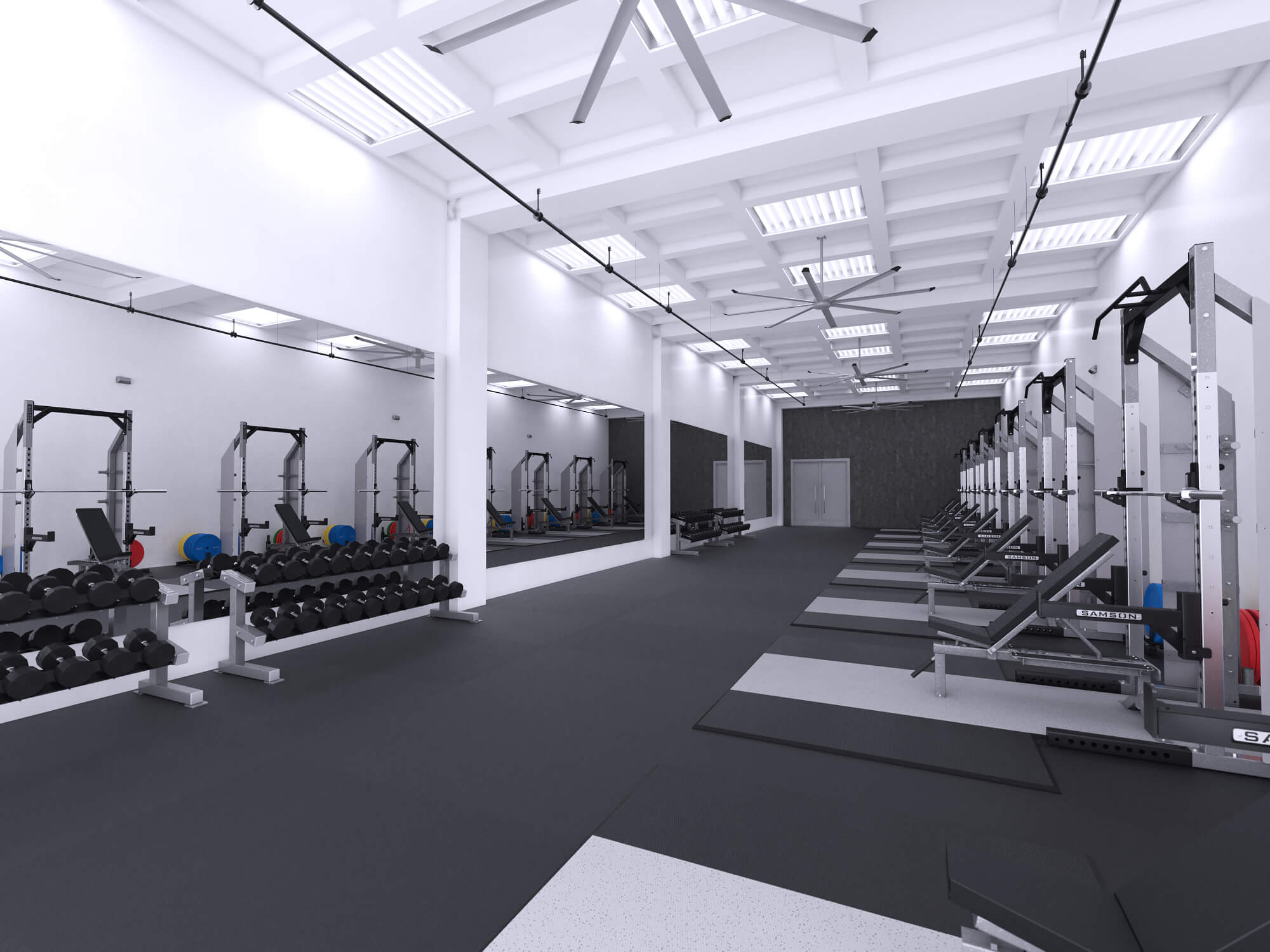 ---
EXTREME WEIGHT ROOM FLOORING
Our Extreme Series Rubber Flooring Tiles are made from 1/2" or 3/4" USA made vulcanized rubber. The Extreme Series offers advanced sound & vibration control. Protect your floor and your athletes with the Extreme Series by American Platforms.
Advantages
Budget Friendly
Sound & Vibration Control
Low Maintenance
Easy Installation
Inlay Weight Lifting Platforms
---
Our installation teams are skilled in the flush installation of weight lifting platforms. Your weight room will look amazing after our flooring professionals are finished with the installation of your rubber flooring, platforms and turf.
In the image below you can see that our installation team has cut and trimmed the rubber for inlay platforms and are now ready to add adhesive to the red platform and gray dropzones. Once the platform and drop zones are secure in place with adhesive, the remainder of the field of recycled rubber flooring will be installed around the inlay weightlifting platforms.
Installation Made Simple
---
American Platforms & Flooring have installation teams ready to assist your school or organization with the preparation and installation of your new weight room or strength room flooring choices. Our flooring experts will work with you on the proper flooring choice for your needs, address shipping and installation for one simple package. No more worrying with who is going to install your flooring, or what to do about transitions or clean-up. If you need existing flooring to be removed, we have you covered there too.
As you can see in these recent installation images, we cover both rubber flooring and synthetic turf installation. Beginning with the floor plan and ending with the finished product.